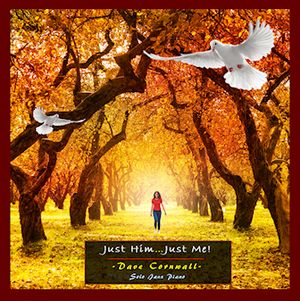 Dave Cornwall, Jazz Piano
Artist Interview
Just Him - Just Me
For Some Peaceful Alone Time With The Great Alpha and Omega!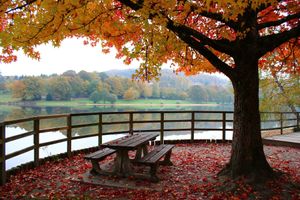 Just Him - Just Me
Artist Interview With Dave Cornwall
 Hello, Dave!  I see you've just released brand new studio album.  This doesn't seem like a typical jazz piano album!  What is this?
"Hi!  Well, thanks for asking!  Where should I start?  Probably, the beginning would be the best place!" 
"To make a long story short, a while back I put together a Sunday music program for some dear old friends in a nearby dementia unit.  Over the years, probably, I had done various types of event and party-related work at about fifty or even more such places, including assisted living facilities." 
"The first time that I played a Sunday program however, I was truly amazed by some of the reactions.  In short, the coming together of people and the hearing of some of the great church songs brought such happiness, profound appreciation and out pouring of gratitude from people! Truly, I was taken aback.  Some people were so moved, they actually wept as they seemed to unexpectedly "re-connect" with several things....for some a pleasant childhood, their faith in God, memories of raising their own families, etc.  Honest to goodness, I had no idea that my rendition of  Jesus Loves Me   could do that!"
"When the music was over, and I listened to the thoughts, reactions, and excitement of the people in attendance, I was very surprised to find out that none of the many local churches had ever come in to offer any type of worship opportunities, pastoral care, or anything.  Further, while most of the residents had opportunities to shop or go on other types of recreational excursions, most had no one at all among family or facility staff to take them to any church or any type worship experience."
"The bottom line for me was clear.  No matter the age, or the condition of body or mind, all believers profoundly appreciated again hearing the music of their upbringing, the traditional, powerful music of the church, and the music and the messages of their faith and the great love of their God."  
"So, maybe that answers the question of where this album "came from?"  Beyond just that, however, let's talk about the "jazz piano" piece for just a bit.  Quite clearly, the selections contained in  Just Him - Just Me  are not what most people would consider "typical" Sunday or church music!  For many, because of the stylings, harmony, and arrangements, this music can actually have a real place in people's lives beyond just a Sunday church experience.  For those that might ask "why," I'd say the answer is known already...God's music brings with it both inspiration and power!  And, both of those aren't just for Sunday morning.  Really, for most of us, inspiration and power are something we badly need and very much appreciate just about every day and at various points throughout the day...times when we need to prepare for or think about something, unwind on the way home, focus and push through during yoga, exercise, or running, or, when it's truly time to brush off the things of the world and sit down and finally relax at home.  Or for many, maybe this album is simply ideal for those Sunday mornings when just quietly staying in is the way the week will end."  
Wow, that's quite a lot!  Thank you for sharing all that.  I can see this music means quite a bit to people, maybe more than most music does these days!  Also, I can see that it means quite a bit to you too!  Thank you for doing this!  In closing, may I ask you one more thing?  Is this album "for" any others, other than the elderly?
"That's a great closing question, and, a very, very important one too!  Already, I've mentioned some different types of daily life situations in which this music can be unexpectedly useful and because of its inspirational qualities, most welcomed.  Bringing faith more into daily life is something desirable for all believers, of mostly all ages.  The rejuvenation, power, and hope that many feel in church can in fact be...at your finger tips.  In  John 5:25,  Jesus spoke about people "hearing" his voice and that hearing relating to salvation.  For those many who hear and experience a connection with God through His music, I offer this album for that purpose.  While church attendance in the US has fallen dramatically, and continues to unfortunately decline for a host of reasons, as the Bible tells us in  Hebrews 13:8,  God is the same yesterday, today and forever.  The great songs of faith in Just Him - Just Me remind of the unchanging nature of all that's good and decent.  Just Him - Just Me  is for everyone everywhere, no matter where they currently find themselves in their walk with God or their membership status with any local church."
*                       *                              *                        *            
"Someday, I'd like to make this album available to every soul currently residing in a nursing home, rehab center, assisted living and especially, the dementia units.  In those places, most no longer have any external connection to the communal worship experience that they badly need and would certainly greatly, greatly appreciate.   With the help of my  "earthly angels,"  I'm preparing to launch a nationwide program for Christian seniors living in institutional care settings.  If anyone would like to assist with this formidable undertaking, please click to learn more about the  We Are The Branches He Is The Vine  Initiative. 
With your help, hopefully, we'll be able to address the very significant and largely unspoken spiritual needs of many, many of our treasured senior citizens.  If you can help, thank you!  And, God Bless!"     Matthew 25:31-46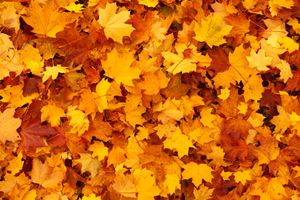 Album's Social Media Sites